Hand Engraving Tools Artist as well as Engraving Tool Maker
Exhibition grade gold inlay, wildlife scenes, and various scroll decorations on the finest handmade knives, guns and jewelry.

Click Enter within the knives photo above for Steve Lindsay's personal site and engraving work.
---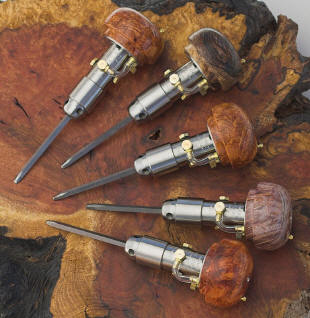 The Patented Lindsay PalmControl?nbsp; can increase the speed of learning compared to foot pedal engraving. This is because the PalmControl is intuitive and natural in the sense that what is done with your hand is what you get. There is no need to learn to coordinate continual foot movement to every hand movement. Click above image to learn more.
Hand Engraving Tools
Engraving Tool Archive
Sister sites:
www.AirGraver.com
www.EngravingSchool.com
www.EngravingForum.com
www.EngravingGlossary.com
www.EngravingClasses.com


Hand engraving tools, gravers, stone setting, hand engraver, graver, jewelry engraving, Kearney Nebraska Art Mona custom knife engraving, gun engraving, custom jewelry, graver, tools for diamond setting, stone setting, gold platinum rings, bulino engraving, learn to engrave. Engraving classes and school, metal engraving tool Hand Engraving Tools and Hand Engraving for Jewelers and Artists Learn Hand engrave tool, hand gun engraving tools, stone setting, Engraving Training classes for engraving, hand engraver, jewelry engraving, hand custom knives & jewelry banknote, tools, gravers, graver.
Diamond setting, master platinum ring engraving, tool family crests and coat-of-arms, heraldic engraving, bulino engraving school and learning hand engraving school engrave engraver engraving western cowboy silver hand workshop tool stone setting classes workshops supplies hand engraver equipment rotary handpiece jewelry repair jewelers banknote gun firearm master machine. Power bit and spur tools air chasing graver airgraver etching pave channel bezel gravermax gypsy gravers gold platinum steel silver goldsmith silversmith scroll knife making art supplies sale tool gold inlay catalogue inlay etching printmaking, artist cut angle tint graver mezzotint scraper burnisher scriber halftone rake wood linoleum, plate maker gouge knife carving.
Lining chaser flat stippling sharpening, stone magnifying practice plate copper scrimsaw bulino rings metal zinc line square Graver handpeices burs rotary system air compressors quiet air tool organizer microscopes loupe gravers wood carving engraving blocks Power Hone sharpening fixtures grind engaving training center ring clamps belt buckles nameplates ring holders vise ring size cutter soldering station books engraving pattern stamps videos buck knife, projects, scroll, engraving jewelry school, art princess round diamonds, brightcut, how to, master engraver, chasing hammers