INTRODUCING…THE OMEGA In order to meet expanding markets, the Omega Air Graver, a powerful impacting tool, driven by the same principals behind the Lindsay Air Chasing Graver is now available.
The Omega has a piston weight of 4 times the weight of the largest piston of the Air Chasing Graver. Its overall length is 2.8" (same size as the smallest pneumatic bulino handpiece marketed by other manufacturers).

The Omega develops and maintains its own timing without the use of an internal spring for return or impact, as well as incorporating an adjustable length of stroke within its design allowing for a wide range of power adjustability.

During performance trials, an Omega was set to 60psi and fitted with a hardened dowel pin as a push driver, the length of stroke setting was set to the longest setting and the tool was able to fully drive a .070" dia. x 2" long nail into a 2x4 board. It definitely has power behind it.

Much like the small Air Chasing Graver the length of stroke and impacts per minute are fully adjustable via an adjusting mechanism in the handpiece. With this mechanism, the Omega is able to deliver very short strokes which are perfect for fine impacting. This is imperative when quality detailing is required making it a very versatile graver. One of the customers purchasing the tool engraves car wheel rims, bicycles and jewelry. Another engraves wide, bright cut western style bits and spurs. Other uses it will be ideal for are channel stone setting, deeper engraving on guns and harder metals or using with a wood chisel it will give fast and superb control for wood carving.

At present the impacts per minute have not been timed. Established approximation of impacts are from 2000 during idle and rise up variably to 8,000 / 12,000 when set to a short fast stoke at 40 to 50 psi.
At only 2.8" in length the OMEGA air graver will produce very fine impacts or it will deliver a great deal of power by increasing the porting stroke distance and air pressure for deep engraving in metal, wood or stone... . Or use it to break up the concrete in your driveway.... Just joking, it doesn't have enough power for this, but it does have incredible power for its size. Other currently available pneumatic handpieces would need to be 5" or 6" long to match its performance. The Omega is able to achieve this performance due to the self controlled piston timing and the elimination of the spring in the design.
---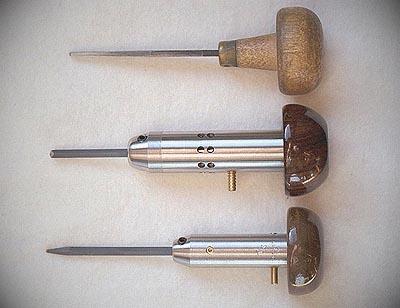 Above: Size comparison of a traditional palm push graver, the OMEGA Air Graver and the smaller Air Chasing Graver.
---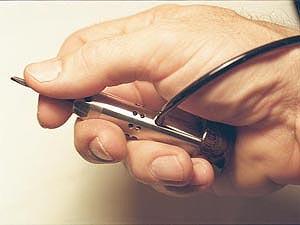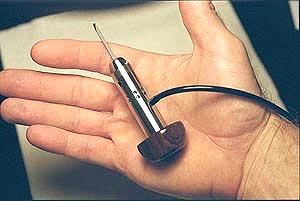 Price for Omega will be in the same as the smaller Air Chasing Graver. If you already own the small tool, the cost will be less, since you will only need the Omega handpiece. If you would like to order, please email to be placed on the backlog. Those who order will be contacted when their request can be filled. Guaranteed Satisfaction, return within 15 days for full refund. Air Graver Quality Commitment
Back to the Air Chasing Graver main page
Email: steve@lindsayengraving.com
Web: www.lindsayengraving.com
www.AirGraver.com
www.EngrvingForum.com
www.EngravingClasses.com
www.EngravingGlossary.com